A Twist on Traditional: The Rise of Sneaker Brides
Some young women picture themselves walking down the aisle in sky-high, designer heels. Although some brides prefer to wear brand new shoes on their big day, she is content to slip on a pair of her trusty old sneakers. And what about the trendy bride who wants to pair her comfy flats with a dash of designer style? The new Keds x Kate Spade bridal shoes are available now.
The Perfect Blend: Comfort Meets Elegance in Bridal Footwear
Keds declared on its website, "Our wedding collection is the perfect union of ease and glamour for everything from the bridal shower to the gifts for the bridesmaids to the actual wedding and beyond into happily ever after." Every type of bride can find the right shoes among these options, whether she wants a fun shoe reveal or needs comfortable slip-ons for an outdoor ceremony. There are glittery sneakers with ribbon laces and canvas shoes with flower appliqués. To avoid compromising on heel height, there are even triple-layer platform designs.
Walking down the aisle in these chic sneakers is the best way to do it. They will give you the height you need without the pain of a heel, and they are comfortable enough to wear all night long for the wedding and beyond. The future brides must have this! The Director of Products for Keds announced their newest offering.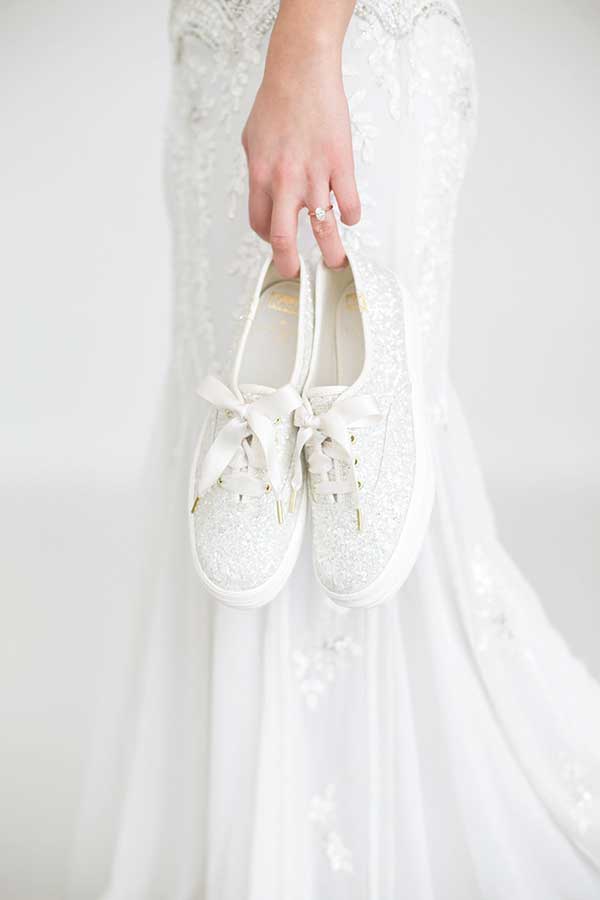 Beyond the Bride: Stylish Sneakers for the Entire Bridal Party
We think it's awesome that the company suggests these for the bridesmaids, too; just imagine how cute it would be if the whole bridal party wore matching glittery sneakers. (And, why, yes, they would be worn again after the reception.)
The Keds website now offers the entire collection of Kate Spade wedding shoes, as well as other Keds designs by Spade.
Depending on the specifics of the design, you can expect to pay anywhere from $85 to $120. But what of the advice we give? You can't go wrong with any of them because they are all lovely and useful.